Russell H. Hippe, III - one of the best divorce attorneys in Atlanta, Georgia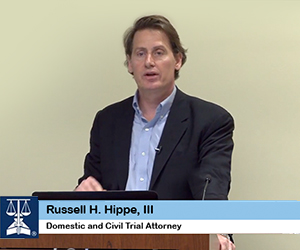 Russell H. Hippe, III has been recognized as one of the top or "best" domestic or divorce attorneys in Atlanta Georgia.
Atlanta divorce attorney Russell Hippe has been recognized by The National Advocates as being one of the top 100 Matrimonial and Family Lawyers in the State of Georgia for the year 2014. He is ranked as "excellent" and "superb" by AVVO. And he has also been nominated by the American Institute of Family Law Attorneys as being one of the "10 Best" Attorneys for Georgia in 2015.
With a general civil trial practice, Mr. Hippe has a proper perspective on domestic cases. He seeks to minimize drama and facilitate settlement whenever possible. He has specifically designed this website to help both parties avoid an unnecessarily expensive divorce - see Roadmap. He enjoys an excellent reputation - see Testimonials. He also has an affordable rate structure. And, if your case requires a trial, Mr. Hippe is an experienced trial lawyer and has achieved exceptional results - see Results.
One of the best way to evaluate whether an attorney is a top domestic or trial attorney in Atlanta is to hear what other respected lawyers have to say about him or her. Mr. George Reid, a "Super Lawyer" and highly experienced trial attorney and mediator has this to say about Mr. Hippe:
"I have known Russell Hippe for several years as an outstanding trial attorney in Atlanta. He is an accomplished lawyer with excellent courtroom skills. He is a zealous advocate for his clients in court and brings the highest degree of professionalism to every matter. I have firsthand knowledge of his abilities in a courtroom, and as a negotiator, and I recommend him without reservation."
Please contact Mr. Hippe regarding your domestic legal needs. He will gladly give you a consultation over the phone. However, until you are a client, he cannot give you specific legal advice.